Ubiquiti TOUGHSwitch 5 Ports PoE Switch Managed Desktop (TS-5-POE) 24V Passive PoE
The Ubiquiti TOUGHSwitch PoE is a 5-port Gigabit switch with 24V PoE support for each port. The TOUGHSwitch PoE 5-Port is a cost effective solution, perfectly designed for powering a number of Ubiquiti products including the airMAX, the UniFi, and airVision devices.
Ubiquiti TOUGHSwitch PoE 5-Port Key Features
Ports – 5 Gigabit PoE
PoE – 24V Configurable Passive
TOUGHSwitch PoE Configuration Interface
Wall-Mountable
The Ubiquiti TOUGHSwitch PoE 5-Port delivers reliable passive PoE and Gigabit connectivity to any attached Ubiquiti devices and as well as any that support passive PoE.
Before and After Ubiquiti TOUGHSwitch PoE 5-Port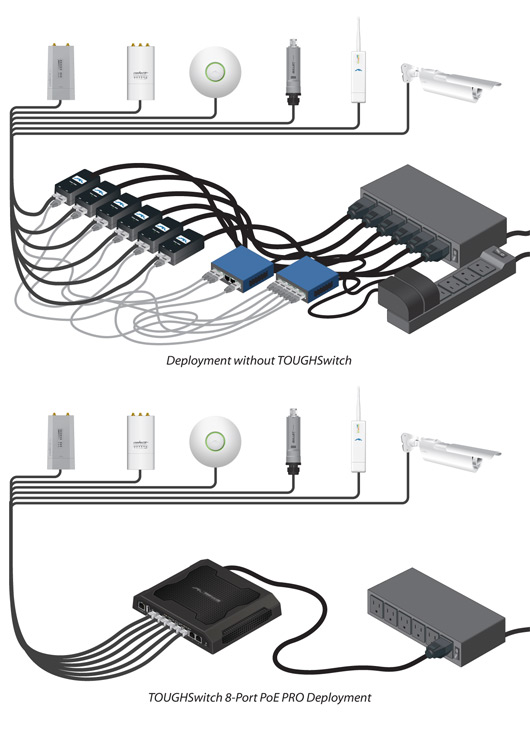 Before                                                                     After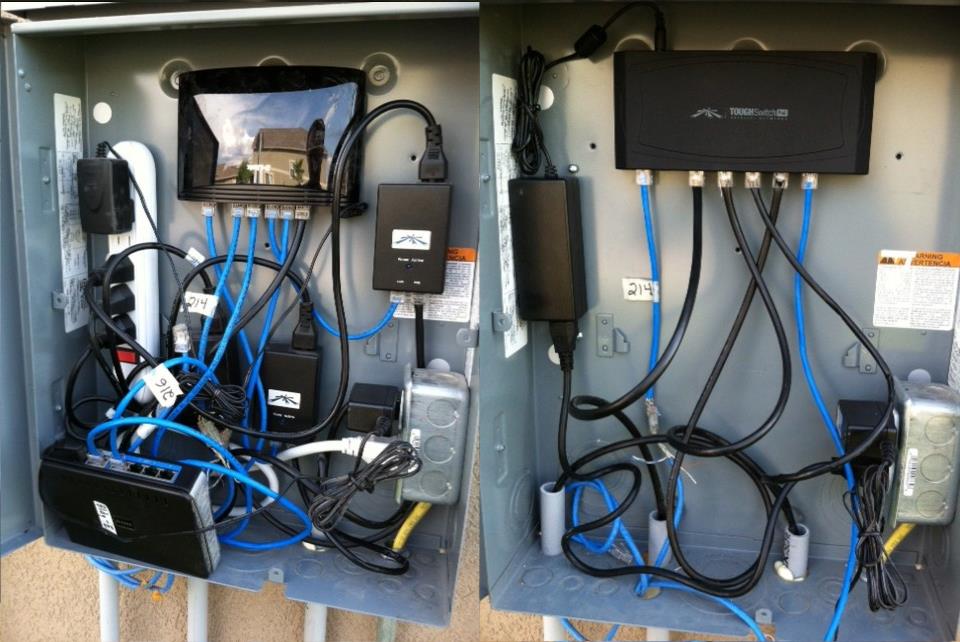 Ubiquiti TOUGHSwitch PoE 5-Port – Technical Specifications

General
Dimensions 197 x 87.5 x 27.3 mm
Weight 250 g
Power Input 24VDC, 2.5A Power Adapter (Included)
Max. Power Consumption 11.5 W
PoE Out Voltage Range 22-24VDC
Max. PoE Wattage Per Gigabit Port 18 W
ESD Rating 24 kV Air / 24 kV Contact
PoE Method Passive
Button Reset
USB Port 2.0 Type A (Reserved for Future Use)
Processor MIPS24K 400 MHz
System Memory 64 MB
Code Storage 8 MB
Certifications CE, FCC, IC
Wall-Mount Yes
Operating Temperature -25 to 55°C (-13 to 131° F)
Operating Humidity 90% Non-Condensing
PoE Configurable Per Port
Management N/A
Ports 1-5 Off/24V
LEDs Per Port
Management Link/Activity
Ports 1-5 PoE, Speed/Link/Activity
Networking Interfaces
Management Port (1) 10/100 Ethernet Port
Data ports 1-5 (5) 10/100/1000 Ethernet Ports