Access control systems are the electronic systems that are designed to control through a network and they should have an access to a network. Access Control System recognizes authenticates and authorizes entry of a person to enter into the premise thereby giving complete protection ensuring security with the system.
Example of an access control system : A door may be unlocked with a swipe card, an RFID system or by the technology of bio metric system.
What is access control system?
Access control system provides security by giving flexible control over who is allowed to enter your premises.
Access control system is one of the most common used system in electronic door control using a card or a magnetic stripe which can be accessed by swiping through a reader on the door. These access control systems are used for security purposes.
The areas or organizations which require high security use different types of access control systems like bio metric, RFID, door controllers and card readers etc. Each access point may be controlled individually as per the requirement of company or organizations where high security is necessary. Network security is also important, especially in a company which handles sensitive data.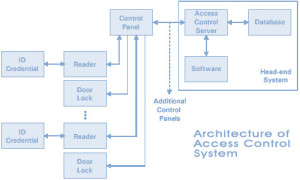 By this card access control systems allows access to enter into the premises limiting people to one side of the door. In some cases, physical access control systems are integrated with electronic ones by limiting the users allowing them to utilize the resources limited on a computer system.
Bio metric Access Control System: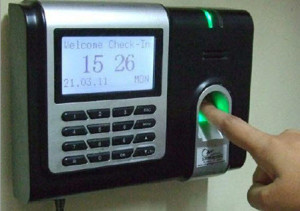 The Bio metric Access Control System is a time attendance control system with fingerprint access and it tracks and records data of Visitors and Employees through its Access Software. This is widely used in confidential places for its easy installation and high security.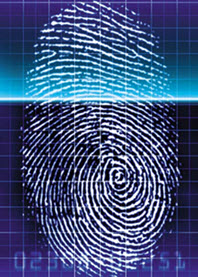 Bio metric Access Control System uses fingerprint instead of card system for access. The Access Control System not only permits entry but also gives the data regarding the entry of persons. The Attendance Software can be integrated with any existing payroll software and it gives automatic record of information generated by the Attendance System and this saves time and resources in recording. It increases productivity and profitability for any organization.
Proximity Access Control System:
The proximity access control system is more confidential access control system. It ensures a safety environment and it is widely used in office, factory, bank, etc.. There are about 50 kinds of time zone settings and 5 open door groups.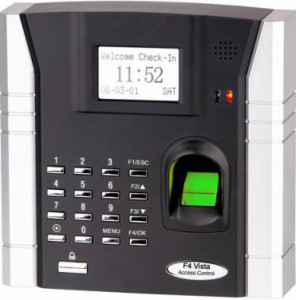 Door Access Control Systems:
Access Control Door opening/closing System is a compact, low cost, standalone. It is ready to use, easy to install device. Any electrician can install it with electromagnetic lock with simple instructions provided. It is widely used in Offices, Server rooms, Homes, Airports, Defense, Data centers etc.
Access control systems within a building may be linked or standardized based on the size of the organization and the varying levels of security. It is suitable for homes, offices and other access control applications. Access control systems were typically administered in a central location. Besides electronic door locks, there are access control panel models, magnetic door locks with uninterrupted power supplies.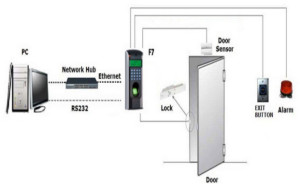 An administrator grants access to a person with the settings built inside the administration software and a key which opens all of the doors in a building in a door access control system and these update the information within the system and each user being given a unique identity.
Features :
• Provides High Security
• High-performance, maintenance-free
• Fast and Perfect Authentication (less than 1 sec.)
• Reduces administrative cost.
• Optional Features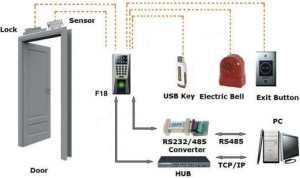 Key card systems operate on the relationship between a plastic card and electronic access control locks. It use less number of components compared to other access control systems. It is as shown in the figure below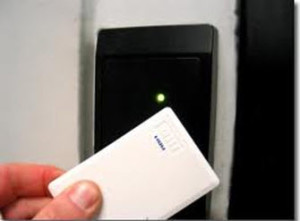 Features of Smart Card Reader :
Compact Designing, ABS Housing
Up to 50,000 Punch Storage Capacity
Up to 99 Terminal Networking
Programmable IN/OUT Setting
Up to 10,000 Employee Database Can be Stored with Employee name
16X4 LCD Display for Date, Time, Employee Name, Card Number
Switch Mode Power Supply (SMPS)
Connectivity Through Rs232, Rs485, TCP/IP, Modem
Online Data Transfer
Voice Messaging
Security Access Control System:
There are many options in security access control system for example, in a home security system that can be customized to meet each individual and family needs and they are burglar alarm systems, fire and carbon monoxide detection systems, closed-circuit TV video systems, card access and automation systems.
The systems consist of sensors placed at different locations throughout the house that communicate with a central control unit. The control unit is connected to an alarm or to an automatic telephone dialer or Internet connection to monitor.
These systems are available as monitored or non-monitored which simply activate a loud or flashing alarm attached to the home, give homeowners a false sense of security. In a monitored system, it is connected to a 24-hour central monitoring service and this service receives an intruder signal. The home is called within seconds and the person who answers must give their name and the pass code whereas in a Non-monitored alarm systems call is set to dial the local police directly when the system detects an intruder.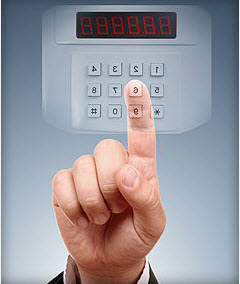 A wired security system is connected by low-voltage wires and a wireless security system employs tiny radio transmitters which transmits signals to the central control unit. All these control units have batteries and if there is a power failure or if the wires are cut many systems have batteries that automatically recharge when the unit is online with the household power.
This is all about access control system and its types which provides security by giving flexible control over who is allowed to enter your premises. Further any information regarding this article,you can contact us by commenting in comment section given below.